Find the Right Kind of Honda SUV for Your Family Travels Around Baltimore and Maryland
Do you need something with ample amounts of cabin space and the kind of confidence-boosting safety qualities you want for a family vehicle? Check out the new Honda SUVs found here at our Glen Burnie, MD dealership and see the differences between each model. That will give you a good idea of which new Honda SUV will suit you and your family best for driving around Baltimore, Annapolis and throughout Maryland and beyond. From the smaller crossovers like the 2019 Honda HR-V and 2019 Honda CR-V, to the larger family vehicles like the 2019 Honda Pilot and 2019 Honda Passport, there's something for everyone waiting here at our dealership serving Ellicott City and Laurel, so visit us today to see more of your options.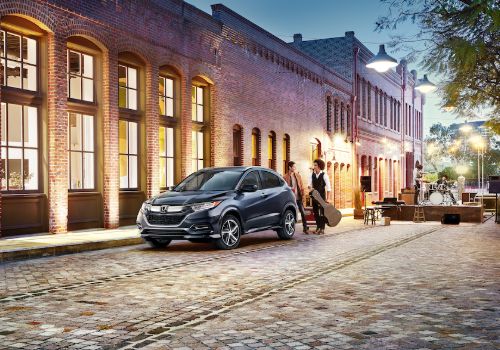 As a subcompact SUV, the new 2019 Honda HR-V is perfect for the driver who doesn't need a fully spacious cabin and high-end capabilities, but wants something a little more than the average car. And even though its small in stature, the 2019 Honda HR-V has a smartly designed cabin that accommodates plenty of legroom for passengers and cargo alike. Add in the latest Honda tech for safety and connectivity, and you'll be all set to go anywhere in the Baltimore area, or even off-roading beyond the city if that's your style of adventuring.
Smart Cabin Design: Subcompact SUVs can often be limited in their interior setups, but with the 2019 Honda HR-V, you'll discover ample space for adult passengers to stretch out. For cargo management, the Magic Seat system in the back makes it easy to adjust your layout to expand the space in the rear area, earning more cargo room than most of its closest competitors.
 
Safety From Tech and Design: It's easy to be happy with its safety specs just by looking at the available driver aids you can add to the new 2019 Honda HR-V, with systems like lane departure warning, forward collision warning and automatic emergency braking and more. But the intelligent redesigned front-end of the 2019 Honda HR-V actually increases your visibility through sightlines, a quality many other subcompact SUVs lack.
 
Smart Tech Keeps You Connected: Whether you're sticking around the Baltimore area or if you're driving far beyond Maryland, you'll love the standard and optional infotainment features found in the new 2019 Honda HR-V. Moving up to higher trims will add Apple CarPlay and Android Auto smartphone integration, satellite and HD radio, upgraded audio equipment and much more.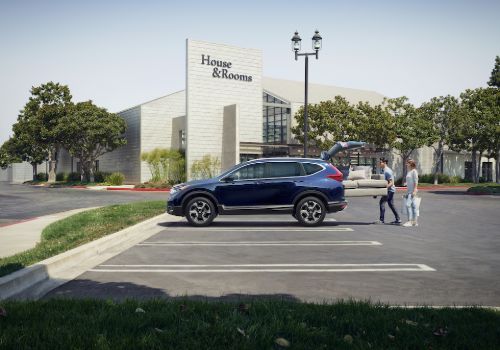 If you're looking for an SUV of any size, chances are your research will lead you to the new 2019 Honda CR-V. It's no wonder this is one of the most popular SUVs on the market, whether it's here in Glen Burnie or far beyond. Featuring the perfect size for many kinds of family drivers, loads of tech for connectivity and safety and a capable yet efficient performance, the 2019 Honda CR-V will prove time and time again to be the perfect everyday SUV.
Exciting Turbocharged Four-Cylinder: While the base-level four-cylinder for the 2019 Honda CR-V is perfectly respectable, you'll find the upgraded engine option far more exciting. The available turbocharged 1.5-liter four-cylinder gives you a slight bump in horsepower, up to 190 from 184 in the base setup, as well as better fuel-economy. Both those factors make the upgrade worth it.
 
Comfortable Ride With Smooth Handling: Something that can't often be said about SUVs of any size is how smooth and comfortable they are for driving. Then there's the new 2019 Honda CR-V, which provides high-end levels of comfort out on the highway, while maneuvering it through packed traffic or slow-moving city streets is far easier than what you'll see in other small SUVs.
 
Huge Amount of Cabin Space: For a small SUV, the new 2019 Honda CR-V prioritizes cabin space far better than its competitors. Not only will the driver and every passenger have plenty of room to stretch out, but the 2019 Honda CR-V also features 39.2 cubic feet of cargo room, which expands to 75.8 cubic feet max cargo space when you fold the seats down.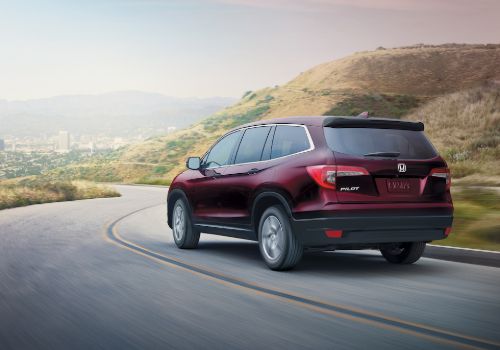 If you need more space for passengers and a whole new row of seating, bump up to the 2019 Honda Pilot. Not only does this SUV accommodate up to eight passengers, but it delivers a surprisingly smooth and efficient driving experience. Loads of Honda tech keeps you and your loved ones safe and connected as you drive around the Baltimore area, and you'll appreciate the versatility of this SUV that can actually tow quite a bit.
A Roomy Interior That's Highly Versatile: It's one thing to feature a large amount of cabin volume, but with the 2019 Honda Pilot, you also have quick adaptability for your specific needs. The second- and third-row seats can easily be reclined or folded down to expand your cargo space to the max 83.8 cubic feet. When all seats are in place, passengers will keep comfortable and safe during your travels.
 
Impressive Capabilities: Powered by a 3.5-liter V-6, the 2019 Honda Pilot produces 280 horsepower and 262 pound-feet of torque. Along with optional AWD, that's impressively capable driving in a three-row SUV, all while you can also tow up to 5,000 pounds in the right setup, expanding your versatility.
 
Loads of Standard Safety Equipment: Many SUVs compel you to choose a higher trim level at a pricier cost for the kinds of standard driver aids found in the new 2019 Honda Pilot. In the starting LX trim, this suite includes road departure mitigation, forward collision warning, automatic emergency braking, adaptive cruise control, lane keeping assist and automatic high-beam assist. From there, the higher trims add additional safety features like blind-spot monitoring and rear cross-traffic alert.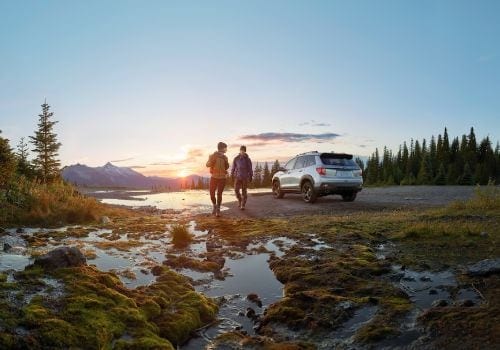 Though it shares the name of an older model, the 2019 Honda Passport is all-new, giving you a two-row SUV with more space than the 2019 Honda CR-V. Plenty of high-end specs and features make the 2019 Honda Passport a savvy choice for the driver who prioritizes safety, utility and high-end capabilities for driving around the Baltimore area.
Lots of Passenger Space: Of course the rear seats can be adjusted to expand the room you have for cargo, but the comfort of all five passengers is a key with the 2019 Honda Passport. Both the front and rear seats provide ample amounts of head, leg and shoulder room, allowing even larger adults to find comfort when riding in the back.
 
High-End Off-Road Capabilities: While the 2019 Honda Passport is a smart in-town SUV for your travels around Baltimore and Annapolis, its optional AWD and raised ground clearance make it a capable off-roader if that's your driving style.
 
Strong V-6 Performance: The 3.5-liter V-6 produces 280 horsepower for the 2019 Honda Passport makes for strong acceleration and dynamic driving along the highways in Maryland. Furthermore, the right setup can tow up to 5,000 pounds.